About Salvatore Tagliarino
Salvatore Tagliarino is a practicing free-lance set designer and a 37 year faculty member of the Design Department of New York University's Tisch School of the Arts. He holds degrees in scenography and industrial design from the Pratt Institute and New York University, and has studied with noted designers Wolfgang Wagner, Oliver Smith, and Josef Svoboda.
"Sal" has a long list of credits for opera, dance, theater, film, television, and industry. His particular love is opera; he has designed productions for the Houston Grand Opera, Nevada Opera Association, and New York Lyric Opera, among others. He also designs for dance, and his credits in that area include the sets and costumes for Alvin Ailey's tribute to Duke Ellington and the costumes for the Larry Richardson Dance Company; he has as well worked with Rouben Terartunian on productions for the New York City Ballet and Joffrey Ballet.
"Sal"'s theater productions range from New York's Broadway and Off-Broadway to Las Vegas and abroad, and include such stellars as Lou Rawls, Natalie Cole, Neil Diamond, and Denis Roussos (at the London Palladium) and such venues as the Manhattan Theater Club, the Westbeth Theater, and the New York Shakespeare Fesitval. He numbers among his television credits sets for Frank Sinatra, Liza Minelli, Alan King, Ben Vereen, Helen Reddy's Home Box Office specials, the Public Broadcasting System, Dance in America, and CBS Cable. His industrial work runs the gamut from Merrill-Lynch, Revlon, and Ford to World Class Wrestling.
He is currently a member of the Board of Governors of the New York Chapter of the National Academy of Television Arts and Sciences.
For a complete list, see his resumé.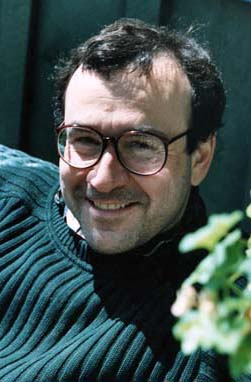 SALVATORE TAGLIARINO
photo by Nancy Bogen